Size

Image size

Paper size

Finished frame size

Moulding

Materials

Sustainable Victorian Ash
310gsm Cotton Rag Paper
Archival Giclée print
5mm Acid free Foamboard
3mm Museum UV Plexiglas

Why Format

Sustainable Materials
Handmade in Melbourne
Fully Insured for Damage
Free Delivery
More info
Having trouble with your upload or need further info?
Uploading

File Quality

Our uploader automatically checks the pixel dimensions of your file and only allows you to select the appropriate size.

As a guide an iPhone 6 (or newer) photo can be printed at our 600x900mm size.

We do not recommend upsampling the image as adding pixels in Photoshop does not achieve a better result, although it does trick our uploader.

Adding filters and effects to photos can sometimes impact the quality. As a guide try to view the image at print size on your screen for an indication of what the printed image will look like. If it doesn't look great on screen, it will probably look worse when printed.

File formats

The uploader accepts .jpg and .png files. If you are printing at our Large or XLarge sizes and would prefer to use a .tif file please send us a download link.

We print files as RGB and use the Adobe 1998 RGB colour profile.

You dont need to resize your files, it is best to upload the full resolution file in its native pixel resolution. We will re-size to the print size, but never alter the image or pixel dimensions.

Problems with uploading

If you are having trouble with the uploader, try clearing the cache by holding down 

Shift+Refresh.

As a second option, please try a different browser.

Minimum file sizes
Use this as a guide only, the higher the resolution the better.
Small size 1000x1500px
Medium size 1800x2700px
Large size 2667x4000px
XLarge size 3000x4500px
| | |
| --- | --- |
| Artwork | |
| Why do you only offer set sizes? | We found these sizes to be most popular and cover a wide range of applications. They also maximise material useage meaning we can keep our prices lower. |
| My work is a different size, can you frame it? | We can do custom sizing for artists and galleries ordering 10+ of the same size. |
| Do you frame existing artwork? | Unfortunately not. We are all about printing, framing and delivering. If you are in Melbourne, our parent company finiframes.com can certainly help. |
Printing

What is a giclée print?

A fine art digital print made on an inkjet printer. They are archival quality and guaranteed not to fade or bleed for up to 100 years. It is the industry standard in galleries and museums across the world.

What type of printer do you use?

The latest Epson P20070 printer 

using genuine Epson Ultrachrome Pro inks.
| | |
| --- | --- |
|  Materials | |
| Do you use real timber moulding? | All our timber is locally sourced from sustainable sources. We use Victorian Ash and Tasmanian Oak timber.  |
| Are the frames mass produced? | Each frame is hand cut and carefully assembled by our team working from our Melbourne workshop. |
| Why do you use acrylic instead of glass? | The 3mm Plexiglass we use  is museum grade. It is lighter than glass, helps to protect your work from UV damage and also has the added advantage of being shatter proof. |
| | |
| --- | --- |
| Shipping | |
| How long will delivery take? | We will have your new work to you in 2 weeks. |
| Where is my order shipped from? | All orders are shipped from our workshop in Richmond, Melbourne. |
| How are the frames shipped? | The frame is bubble wrapped and shipped in custom made, double wall cardboard packaging using a courier service. All work is insured against loss or damage |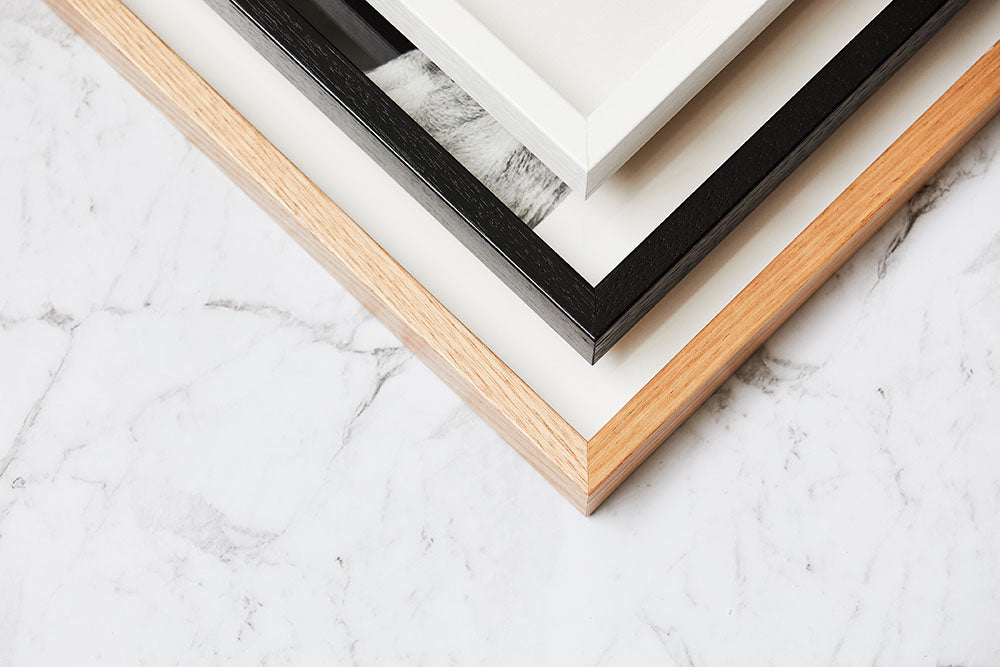 Hand made
Victorian Ash Box Frames
Our timber mouldings are made from locally sourced, sustainable Victorian Ash. The timber is milled, hand sanded and painted.
All our frames (except the Small size) are the shadowbox style, where the work is set back from the museum grade plexiglass for a very modern gallery look.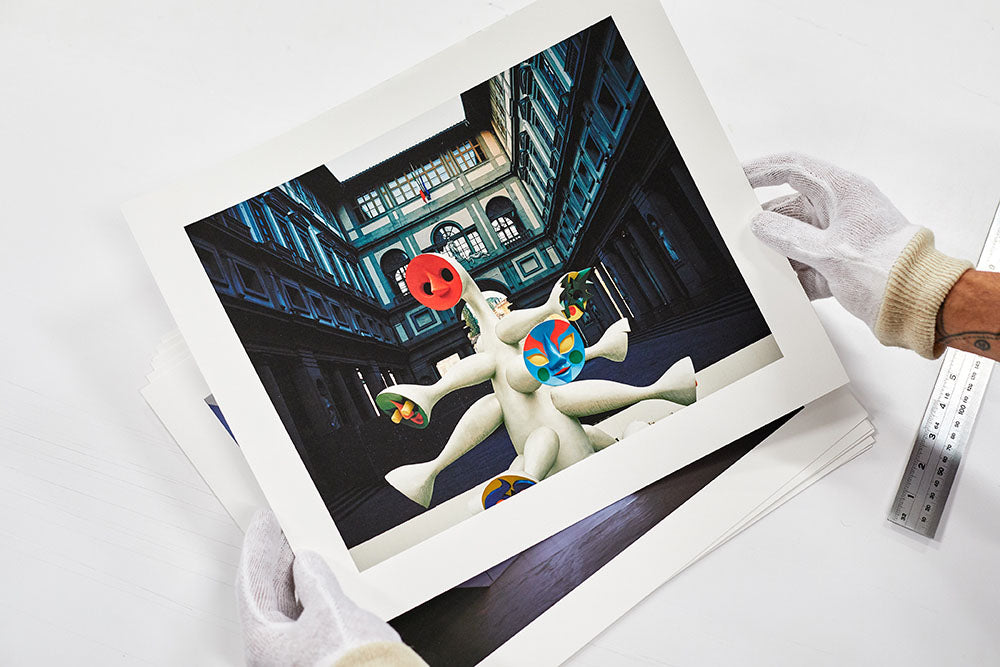 Fine Art
Giclée Printing
We print to a 310gsm 100% Cotton Rag stock using genuine Epson Ultra-chrome Pro inks on the latest Epson P20070 printer. Your giclée print will be dry mounted to an acid free 5 mm foam board using an archival adhesive film.
300x300,300x200,200x300,

600x600,600x400,400x600,

900x900,900x600,600x900,

1200x1200,1200x800,800x1200,

30x30cm,30x20cm,20x30cm,

60x60cm,60x40cm,40x60cm,

90x90cm,90x60cm,60x90cm,

120x120cm,120x80cm,80x120cm

[cm]
[price]

Printed,
framed &
delivered

To print this
size your
image must
be larger than

[pixels]

Black

Black painted 

Vic. Ash timber

[face] face

[depth] depth

White

White painted

Vic. Ash timber

[face] face

[depth] depth

Natural

Natural finish 

Vic. Ash  timber

[face] face

[depth] depth

Full Image

Full bleed

[paper size]

White Mount

[border] Border

Paper size:

[paper size]

Image size:

[image size]